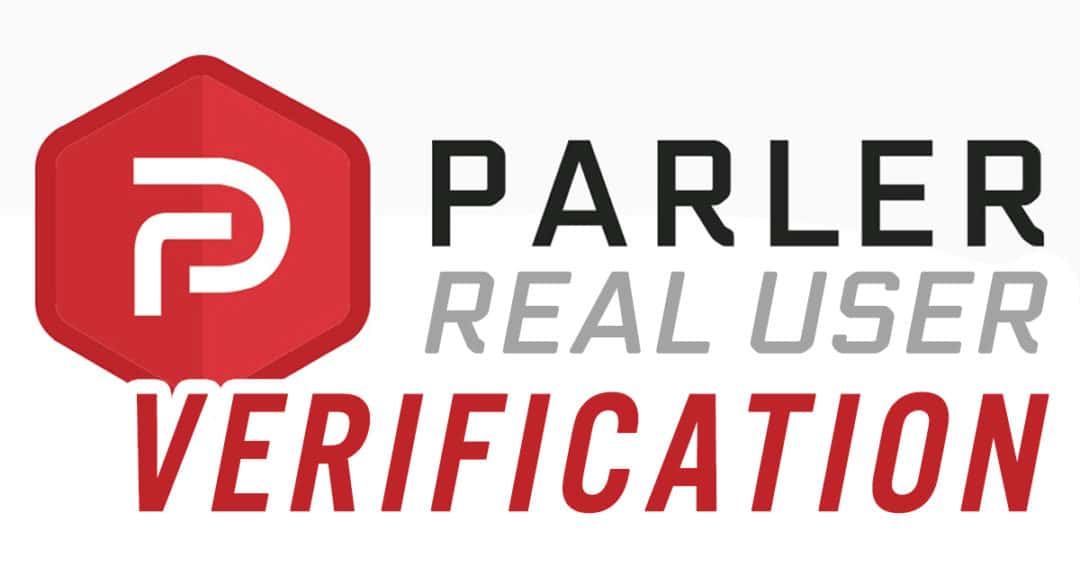 Parler offers a way for all users to verify their account to help promote a community of real user interaction.
While Parler shares a lot in common with the features and functionality of Twitter, they do take a different approach when it comes to the verification of user accounts. While Twitter is selective about which publishers or influencers are verified, Parler extends the verified status to all its users in different forms.
Depending on your intended use of the platform, there are a few different types of badges that Parler offers: Influencer, Parler Partner, Real User, Parler Affiliate, and Private Account. We wrote an article explaining the meaning of each verified status.
The 'Real User' verification process requires that you submit a photo of your ID and a selfie. Verification can only be submitted via the app on iOS or Android.
Here are the steps to get 'Real User' verified (see image below for visual):
Open the Navigation Drawer by selecting the 3 bar icon in the top left of your device's screen.
Select "User Verification" from the menu.
Follow the directions and submit a the front and back pictures of your ID, as well as a selfie pic.
Note: You don't have to use your real name on Parler to be verified, but you will have to use your real ID. It can take up to 24 hours for the Real User verification to process.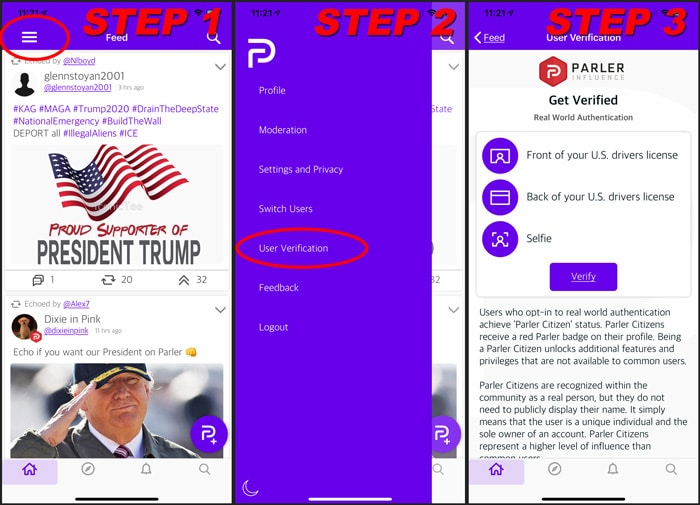 Once your account is verified, a red Parler badge will be displayed next to your profile pic like so…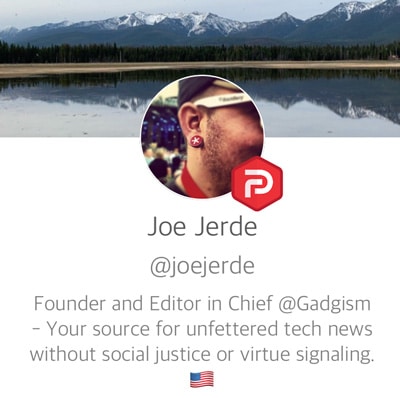 Here is Parler's statement on real user verification:
Users who opt-in to Parler real world authentication achieve 'Real User' status. Real Users receive a red Parler logo badge on their profile.

Parler Real Users are recognized within the community as a real person, but they do not need to publicly display their name. It simply means that the user is a unique individual, and the sole owner of an account.

Parler never shares personal identifiable information at any time. Parler keeps a record of this data encrypted in order to validate that there are no duplicate verifications within the system.
Having this badge is a way to tell others in the community that you are a real person behind the username. For Parler, this is good for a couple reasons. First, it promotes real engagement between the users and can make a better experience weeding out bot and troll accounts. And second, you as a verified user become more valuable to advertisers, putting more money into Parler's pocket.
However, before you jump to get verified status, always be wary in uploading personal documents online. Parler CEO, John Matze, has even admitted in past interviews that it's possible a hacker, in the unlikely event, could gain access to your data.
Personally, I would prefer that Parler offer another alternative to gaining verified status. Such as how social media platform SayScape does it, with a small one time payment through a secure 3rd party payment processor.
Are you Real User verified? Follow us on Parler @WriteofTech.