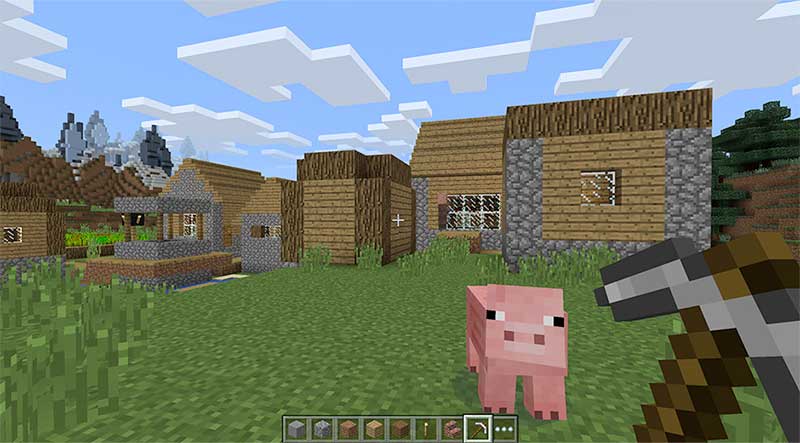 Those of you who have previously owned Minecraft and have upgraded your Windows version, you can now download the Windows 10 version for free.
To download, simply log in to your Mojang account, select the "redeem" button and sign up for, or sign into a Microsoft account. If you don't see the offer yet, give it some time as the rollout is gradual and should come online soon.
Mojang's chief word officer stated in the official announcement that Minecraft on Windows 10 "will develop and evolve overtime," which is why the studio opted to call it the Windows 10 Edition Beta. If you hadn't already owned a PC of the game, it will cost you $10 to purchase, including those on both Sony or Microsoft platforms.
In Minecraft: Windows 10 Edition Beta, you'll recognize some Pocket Edition features, along with potpourri of cool extras. Here are some highlights:
• Craft, create, and explore online with up to seven friends playing Windows 10 Edition Beta, through local multiplayer or with your Xbox Live friends online.
• Play online and local multiplayer with other Pocket Edition players thanks to a free update, due to arrive soon after launch.
• Support for multiple inputs – switch between controller, touch, and keyboard controls with little to no effort
• Record and share gameplay highlights with built-in GameDVR.
• Help shape the future of Minecraft: Windows 10 Edition Beta with built-in player feedback mechanisms
• Chickens, zombies, pigs, boats, armed skeletons, potatoes, zombies, baby squids, enchantment tables, villagers, naked sheep, iron golems, potions, ghasts, pickaxes, carrots, and all the weird and wonderful goodness you've come to expect from Minecraft