If you live a rugged lifestyle, chances are you've spent countless hundreds of dollars to keep your precious smartphone safe. Sonim XP7 is the latest smartphone to tout itself as the "Most Rugged LTE Android Smartphone" in the market.
Sonim Technologies is a provider of the world's most rugged, water-submersible mobile phones designed specifically for workers in demanding and hazardous environments, specializing in workforce-critical communication tools for vertical industries including construction, security guarding, oil, gas and chemical operations, utilities, transportation and logistics, forestry, agriculture and defense.
Sonim XP7 Extreme Indiegogo Campaign
The Sonim XP7 Extreme isn't a totally brand new product release for Sonim, as they already sell the Sonim XP7 via TELUS and Bell in Canada. The difference brought forth with the "Extreme" is that it is available unlocked and without carrier branding, at a cost of $549 USD, with a number of preinstalled apps aimed at 'active sports consumers.'
The Sonim XP7 features Android 4.4.2, a 4-inch 800×480 pixel display with a high-sensitivity glove mode, a 1.2Ghz quad-core Snapdragon 400 SoC, 1GB RAM, 16GB internal storage, an 8MP rear camera, a 1MP front-facing camera, a 4,800mAh battery,  and a 103dB speaker with dual noise-cancelling microphones.
The XP7 is waterproof up to 6 feet for 90 minutes, and will continue to be fully operational in temperature conditions from -20° C to 55° C. If you are accident prone, there's a 3-year accidental damage warranty.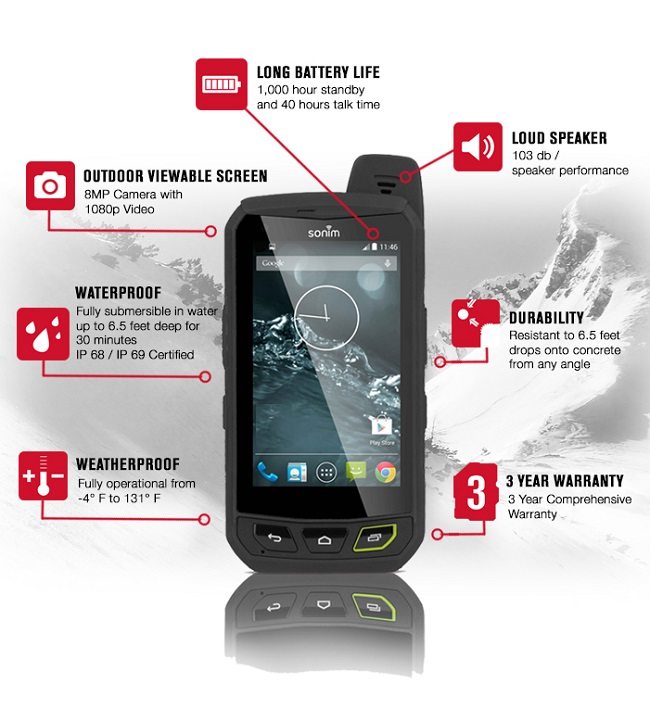 You can purchase one of the first 500 Sonim XP7 Extreme Explorer devices on IndieGoGo for $549 USD, which will include the items below:
Every Sonim XP7 Extreme sold on IndieGoGo comes with a unique Sonim Virtual Goodie Bag, valued at over $500.
Let us know in the comments below if you'll be picking up at Sonim XP7 Extreme for your rugged lifestyle.