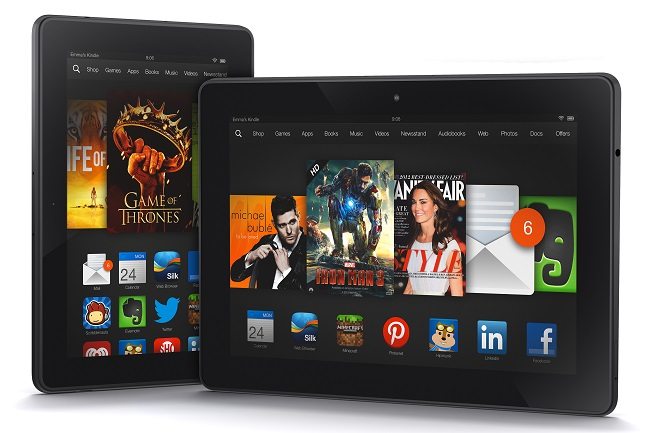 Amazon today introduced the new Fire HD in Canada, featuring a quad-core processor, front and rear-facing cameras, an HD display, incredible reliability, and a world-class ecosystem of features, services, and content. The new Fire HD tablets are available in two sizes—6″ for $134 and 7″ for $184.
"The new Fire HD features a stunning HD display, quad-core processor, Dolby Digital audio, front and rear-facing cameras, incredible reliability, and Amazon's massive content ecosystem—all supported by Amazon customer service," said Jeff Bezos, Amazon.com Founder and CEO.
Fire HD features:
High-definition display—Crisp and vivid with over 1 million pixels (252 ppi for 6″, 216 ppi for 7″), now brighter than the previous generation Kindle Fire HD, with vibrant colours and whiter whites.
Ultrafast quad-core processor—Running at up to 1.5 GHz, the quad-core processor has 3x the graphics performance of the Samsung Tab 4—Fire HD can run even the most graphically intensive games.
Front and rear-facing cameras—Video chat with friends and family with the front facing camera; take photos or capture videos in 1080p HD with the rear-facing camera, with free, unlimited cloud storage for all photos taken on Fire devices.
Pocketable design—Small and portable so it fits in a pocket or purse and is easy to hold with one hand.
Incredible reliability—With a Gorilla Glass display and a design that is engineered for best-in-class reliability, you don't have to worry about Fire HD breaking. Many other tablets cut corners on reliability—in lab testing they are anywhere from 2x to 20x more likely than Fire HD to break if dropped. Even the iPad mini is 2x more likely to break.
Dolby Digital Plus audio—The standard in high-end audio. Fire HD delivers crisp and clear sound without distortion.
All-day battery life—Delivers up to 8 hours of reading, listening to music, watching video, and browsing the web.
Stay connected and productive—Fast web browsing, email and calendar support, plus a new pre-loaded WPS Office app lets you create, edit, and view Office documents.
Massive content ecosystem—Millions of books, Android apps, and games—including Facebook, Netflix, Sognza, Twitter, Angry Birds Stella, Minecraft, and more—with free, unlimited cloud storage for all Amazon content.
Also available for the Fire HD are new accessories, including a new protective cover that is available in six colours and can stand in both portrait and landscape orientations.
In addition to the new Fire HD 6″ and Fire HD 7″, Amazon also today introduced the new Fire HDX 8.9.
The new Fire HD is available for pre-order starting today and are expected to begin shipping in October.