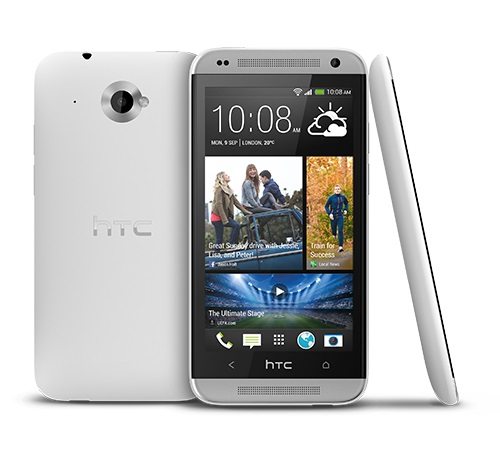 The Desire brand has been synonymous with HTC for several years. Last September, HTC released an updated version aptly named the HTC Desire 601. Today, we will take a look at this latest HTC device.
Specs/Design
The HTC Desire 601 take many hints from the higher-end HTC One devices. This is the first mid-market Android phone from HTC to feature LTE connectivity. This mid-sized device features a 4.5-inch screen with 960×540 pixel Super LCD2 display. With an included  8GB of storage (expandable to 64GB via MicroSD slot) and 1GB of RAM, the  1.4GHz Qualcomm Snapdragon 400 dual-core processor make simple tasks such as web browsing a flawless experience.
The rear-facing 5MP camera won't give you the same images you'd expect from the high-end ultrapixel camera featured on the HTC One and One Mini. The front-facing VGA camera will suffice when used for video chats with family and friends.The Desire has a lovely matte backing that gives the build quality a remarkably great feel for low-priced device. Like the One series, the Desire boasts dual front-facing speakers with BoomSound, which give you a far better sound quality than the majority of smartphones with several several hundred dollars added to their price tag.
Equipped with a 2100 mAh battery unit, the Desire 601 will grant you an above-par battery life. We were able to get a full days use with the battery during our week of testing, and rarely had to plug in the device mid-day during more hectic periods.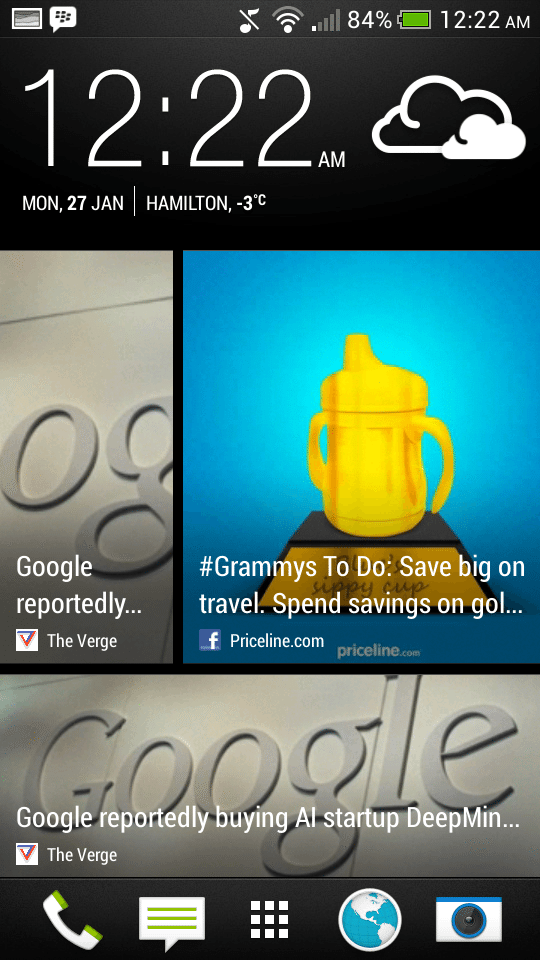 Features
The 601 runs Android Jelly Bean (4.2.2), with plans to upgrade to KitKat in the near foreseeable future. You'll find several improvements made to Sense 5.0, including BlinkFeed and an excellent camera app. BlinkFeed is a feature that aggregates various types of content like news, your calendar appointments, social updates, etc. It's a great feature, but unfortunately cannot be turned off, which might be a deal breaker for user who prefer a more stock Android experience. I also noticed that Blinkfeed was lacking in aggregating the content that I found important or key to my daily lifestyle. Other than BlinkFeed, the rest of the homescreen interface is your standard Android affair. You can have multiple pages used for app shortcuts and widgets.
As you are probably already aware, you'll know that HTC Sense 5 is a pretty extensive UI, changing the look and functionality of most built-in applications, including the dialer, messaging and organizer tools. Overall, HTC's custom user interface gives one of the most polished and unique offering currently in the market. There are some small inconveniences of adding icons and widgets to the home screen can sometimes be a bit complicated, but they certainly don't ruin the overall positive impression.
Multimedia
The Desire 601 allows you to enjoy all the multimedia entertainment out there that you can consume, but with some drawbacks. For example, the 540 x 960 resolution means that you won't be able to enjoyYouTube videos in HD. Thankfully, the amazing Boom Sound speakers make any video on the Desire 601 much more powerful and fuller.
In addition to the standard Android music player, HTC has also included  its own Music app, which is quite simple and efficient to navigate. It will display album art, artist photos and lyrics, but it lack some more advanced functions you may typically, so if the audiophile within you want a bit more control over the settings, you might want to navigate to Google Play to download your favorite media app.
The Desire 601 is available on Rogers, Fido, Bell, Virgin and Wind Mobile for $0 on a 2-year term or $250-300 outright.