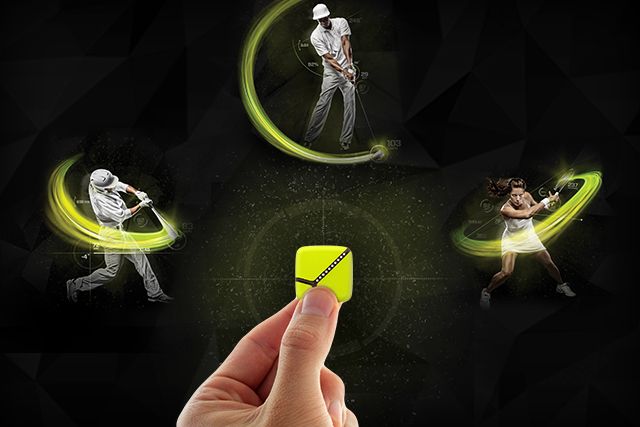 Zepp, the leader in sports performance technology, announces the UK availability of the world's first app-powered multi-sport training platform for golf and tennis.
The Zepp training system captures performance data by combining a 3D sensor, sport specific equipment mounts and mobile apps. Zepp consulted with professional players and coaches to develop the sensor and apps, including those from the PGA TOUR.
The UK launch coincides with the debut of a new free Zepp Golf app that offers exclusive content and access to video analysis features allowing players to analyse and compare swings to the world's best professional golf athletes. The app provides a detailed analysis of the pros' swings, complete with specific training tips and drills. When paired with the Zepp multi-sport sensor the app delivers a powerful 3D training platform.
Jason Fass, chief executive officer of Zepp, said: "We have seen huge success in our native US with Zepp and are very excited to properly introduce it into the UK. We've built a platform that delivers impactful data and instant feedback to athletes and coaches allowing them to analyse and improve their game like never before. The sensor and dedicated sport apps aim to change the way people practice, play, and experience the sports they love."
Zepp Multi-Sport Sensor
The Zepp 3D motion sensor is extremely small, at 1-inch square, less than half an inch thick and weighing just 6.3 grams, so it never impedes performance. Constructed of a rugged rubber exterior and shock-resistant core, the sensor is also extremely durable to withstand all types of abuse on the golf course or tennis court.
Each sensor contains a powerful ARM processor, multiple motion sensors, storage for up to 200,000 swings (200,000 tennis swings / 2,000 golf swings) and up to eight hours of battery life. Using innovative sport-specific mounts, the Zepp sensor easily attaches to any tennis racket or golf glove. It captures 1,000 data points per second and transfers all of this data to a user's smartphone or tablet via Bluetooth.
Zepp Golf
Features:
Replay and review swings in 360° from any angle and compare the shape of a backswing to a downswing
Track club speed — how fast the head of the club is moving at impact
Measure swing tempo — the ratio of time it takes to make the backswing vs. downswing (goal = 3:1)
Measure the angle of the club shaft at the top of the backswing with precision and ease (goal = 270°)
Measure hip rotation — place the smartphone in a front or back pocket to capture how much the hips rotate
SwingScore — evaluate the quality of each swing and measure how closely it is to achieving personal swing goals
Compare and share individual swing data with others, even comparing swings to pros including Keegan Bradley and Brendan Steele
View detailed analysis and trend reports and track your progress over time
Easily attaches to any golf glove and wirelessly sends data to a smartphone or tablet after every swing
Stores up to 2,000 swings on the sensor and unlimited swings in the cloud
Zepp Golf free app
Includes Zepp Golf Pros:
Keegan Bradley: 2011 PGA Championship Winner, 2011 PGA Tour Rookie of the Year, 2014 U.S. Ryder Cup Team member
Brendan Steele: PGA Tour professional
Ryan Winther: 2012 RE/MAX World Long Drive Champion, 4-time Guinness World Record Holder
Zepp Pros Stories — Every pro player has a story to tell about their approach to success. Zepp.com now offers a collection of videos packed with insights into how amateurs and coaches can immediately improve their game.
Zepp Training Center — Zepp users have access to resources, including video tutorials, tips and drills. These tools will help them to get the most out of the Zepp training platform.
Zepp Tennis
Features:
Tracks the amount of forehands, backhands, serves and smashes hit
See how much power is generated with each stroke and see the trends for an entire match or practice session
Track how many topspin, slice and flat shots hit by shot type
Track the total amount of time spent on court and the active time used playing points and rallying
Compare and share swing data with others
Easily attaches to any tennis racket and wirelessly sends data to any smartphone or tablet
Stores up to 200,000 swings on the sensor and unlimited swings in the cloud
Pricing and Availability
Zepp Golf and Zepp Tennis are £129.99 each and available at Apple stores, Currys/PC World, Argos, John Lewis and American Golf.
The Zepp app Golf app is free to download on the AppStore and Google Play.