The Nokia Lumia 625, released just before Nokia was bought by Microsoft, is a surprising handset. It's not just an update to the upper-budget Lumia 620 (there are so many Lumia handsets now that we keep having to make up new categories), it's the biggest Lumia handset there is, with built-in LTE at a very reasonable price. Recently the device was made available on Rogers & Fido, and we've went hands-on with Nokia's beast of a device.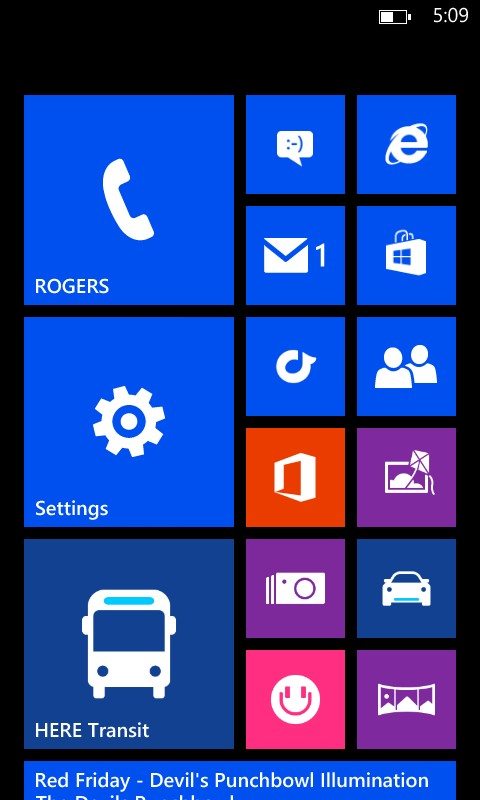 DISPLAY
The 625 has a large 4.7-inch screen, which is even bigger than the 4.5 inches of the Lumia 925. This makes the phone quite a handful, but it's still possible to use one-handed; particularly as, unlike Android, you don't have to pull menus down from the top of the screen. It's also pretty heavy at 159g, which is 20g more than the Lumia 925, but does feel lightweight compared to the Lumia 920.
Unlike most handsets with screens this large, which tend to have at least 1,280×720 pixels, the Lumia 625 betrays its budget nature with its 800×480-pixel screen. By current standards, this is very few pixels to stretch across such a large screen, and leads to a low 201ppi pixel density figure.
Headlines aside, you definitely can't read text on web pages when zoomed out, and the jagged edges to fonts can look decidedly retro when compared to a phone with a 1,280×720 or 1,920×1,080 resolution. However, as long as you don't mind zooming when surfing, the Lumia 625 is a reasonable web browsing phone. It's certainly quick enough to cope with complicated web pages, such as stories on www.gadgism.com with rows of nested comments, and scrolls around without missing a beat.
Image quality from the IPS panel is also reasonable. Whites are bright and even and colours look accurate, but the Lumia 625 doesn't have the Lumia 620's ClearBlack coating, so doesn't have as deep blacks or vibrant colours.
APPS
As you'd expect, the 625 comes with Nokia's HERE Maps and Nokia Music apps. These give you worldwide offline mapping, turn-by-turn navigation and a large number of free music tracks, organised by various playlists. The offline and navigation features of HERE Maps can be found on Android phones in Google Maps, but HERE Maps lets you store entire countries offline rather than just sections, and we found Nokia's maps to be sometimes more detailed. Nokia Music is an excellent selection of high-quality free music, which will help keep you entertained for hours.
Unlike more expensive Lumias, the 625 does do without the Nokia City Lens app, which overlays points of interest on the camera display, so you can navigate in 3D to the nearest cashpoint or pub. This is a significant loss, as there isn't really an alternative app for Windows Phone; AroundMe can plot points of interest on a map, but you'll have to do without the augmented reality aspect.
CAMERA
The Lumia 625 has a 5-megapixel camera, and Nokia's impressive Smart Cam app. This takes several photos at once when you press the shutter (7 photos on the 625, compared to ten on more expensive Lumias). As well as letting you choose the best shot, having more than one photo of the same scene lets the 625 perform some fancy effects. Action Shot, for example, overlays an object moving past the camera on a single frame, so you can see the progression across the photo. The Remove Moving Objects function does what you'd expect, such as removing a passing bus from a shot of a landmark. A feature we haven't seen before is Motion Focus. This puts a moving object in the middle of the frame, and blurs the background to make it look like it's moving at high speed; we used it to make us look like The Flash when walking across the office.
Despite its relatively low megapixel count, we were impressed with the quality of the Lumia 625's photos.  However, the lower resolution means you quickly lose detail when you zoom in. Low-light shots were reasonable, but the Lumia 625 showed significantly more noise than the Lumia 925 in very dim conditions. It's an impressive camera for an inexpensive phone.
PERFORMANCE & BATTERY LIFE
The Lumia 625 boots from dead to usable in around 20 seconds, and once it's up and running on a full charge, it won't be forced to sleep again for quite some time. As the battery rundown test shows, that 2,000mAh pack really lasts. You'll still easily get a full day of power use out of it, or two days under normal circumstances — some browsing (over LTE), taking a few pictures, listening to music, a few phone calls, emails, etc. The usual.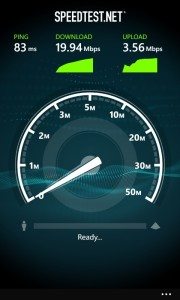 LTE is the 625's main weapon. Our best speed test over 4G was 41 Mbps on the download and 19 on the upload. Download speeds were more in the region of 8 Mbps to 14 Mbps in downtown Toronto due to network congestion, but for the vast majority of the time, we were browsing just as fast as the device could keep up. WiFi range and connections are solid, GPS lock-on times are frighteningly quick and call quality is, well, just fine.
It's unusual to see such a large phone at the budget end of a range, so if you're keen on a big screen and 4G the Lumia 625 will certainly appeal. It's also fast and has a good camera. We're not convinced it's better than the Lumia 620, though, which has a smaller display but the same resolution, so doesn't suffer so much from pixilated text and also has deeper blacks and punchier colours thanks to its ClearBlack coating. You can purchase the Lumia 625 now from Rogers or Fido for $0 on 2-yr agreement or $199.99 off-contract.