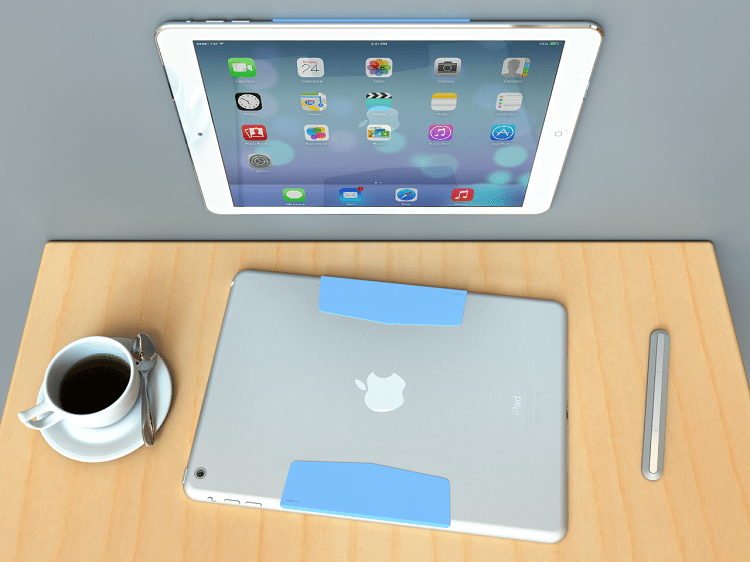 It never fails. You're somewhere with your iPad and needing to mount it, but you've got nothing to hold it in place. Now, welcome Magbak to your iPad world of needs!
Magbak is the world's thinnest mount for iPad. It's so thin, most would accidentally mistaken it for a simple iPad grip. The rare-earth magnets found within the Magbak allows you to mount your iPad to most metal surfaces without adding any significant bulk or thickness. For non-metal surfaces they've created MagStick, with double sided 3M tape to adhere your MagSticks to any surface.
I was recently holding a friend's iPad Air and noticed that I was rarely able to get a good grip on his bare iPad. Its in situations like this that the Magbak would be a welcome addition to anyone's iPad accessories.
This is not the first generation of MagBak that Alex Baca & his team have created. Back in the summer of 2013, the original MagBak bypasssed its $15,000 goal of funding on KickStarter with $70,328 pledged. This 2nd generation of MagBak is on schedule to triple or quadruple its funding within the remaining 6 days.
You can pre-order the 2nd Gen MagBak for your iPad Air or iPad Mini via KickStarter, or immediately purchase the 1st Gen MagBak for all other iPads directly from their website.
Source: KickStarter